Articles
We assign one IP address for each Instagram account on our servers and in most cases everything should be fine with your accounts. But for some reasons Instagram may temporarily consider some of our IP addresses as suspicious. If you have a problem with not working likes/follows/comments/unfollowing during 1-2 days you can try to use your own proxy server. Many companies sell proxy servers all over the world and you can easily find them in Google. But be sure the proxy is private and used only for single Instagram account.
The service of our partners, where you can get high-quality proxies - PROXY6.NET
IMPORTANT! USE ONE PROXY SERVER NOT MORE THAN FOR 3 INSTAGRAM ACCOUNTS!
1 PROXY <= 3 ACCOUNTS
At the moment we support working with an IPv4 proxy like SOCKSv5 (keep this in mind when buying a proxy) - at the nearest time we will add the ability to connect a HTTP (s) type proxy!
Proxy Instruction:
STEP 1
Go to your Bigbangram service dashboard
STEP 2
Select an account - which you want to transfer to your personal proxy server
STEP 3
In the working panel of your account, click on the "Settings"

STEP 4
Go to the PROXY6.NET service to purchase a Proxy (or use your own proxy / stores) and purchase a proxy by following the site's instructions. In your study PROXY6 you will see the following information: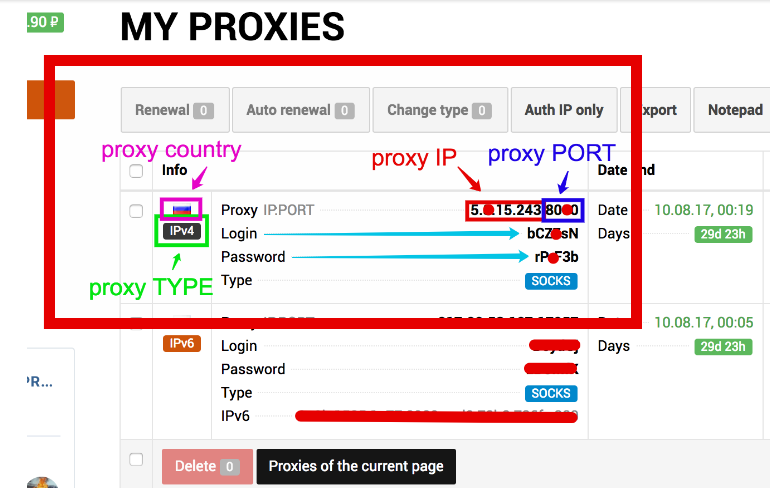 Copy the necessary data to enter it in the Instalex service to transfer your account to a personal proxy:
IP proxy host
PORT - proxy port
Login - proxy login
PASS - proxy password
STEP 5
Return to the Bigbangram service toolbar and enter the data in the appropriate fields. Click the button "Check proxy" - if the system answers that the proxy is suitable, then click on the "Save" button and your account will continue to work on your personal proxy.