Articles
_______________________________________________________________________
ROI (profit) is 3125%.This is a story about simple idea, which grew into something bigger.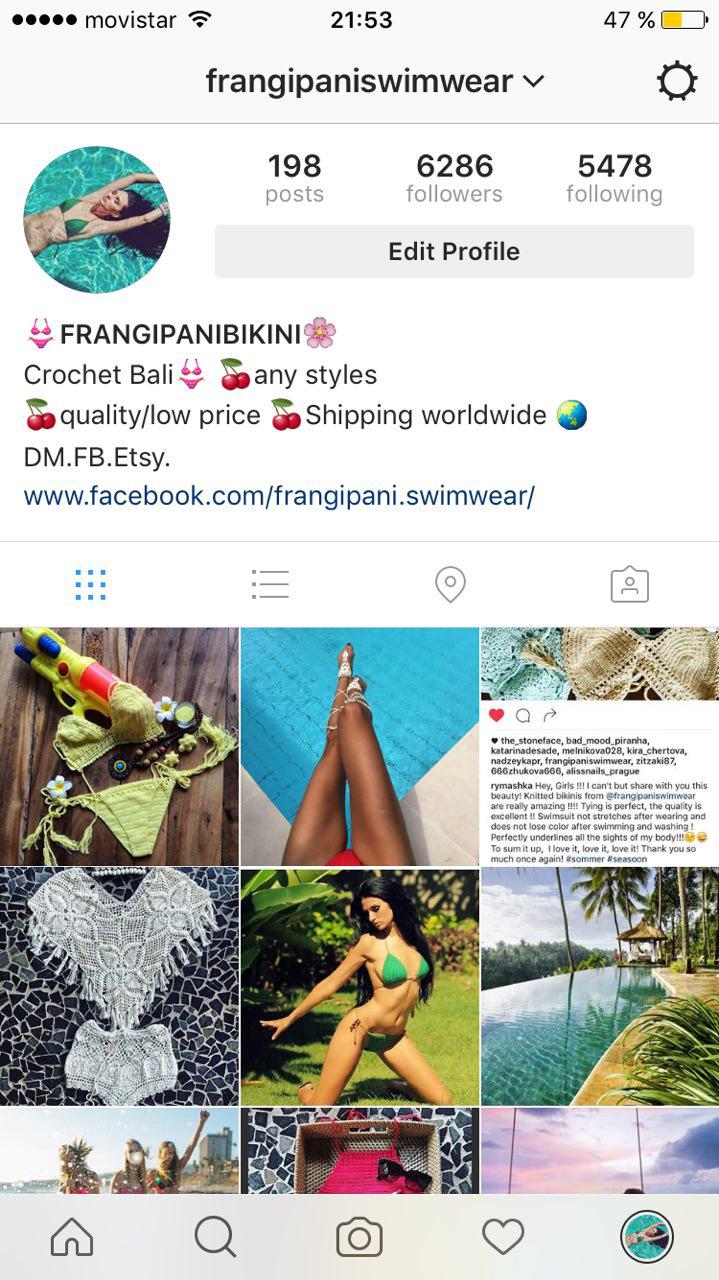 We rested with our company in Bali (Indonesia) and there we paid attention to luxurious handmade bikinis. It turned out that all that swimwear was sewed by locals and its price was ridiculous =)
So we decided to start business in the retail sales. We didn't have any experience in such kind of business, so Instagram seemed to be as the most obvious sales place. Bikinis are really beautiful, attract attention, even sellers followed our page with a reason. Because we were surrounded by creative people, we could quickly organize photo sessions for swimwear, rename account in Instagram and put photos there. But what to do next?
The familiar marketers helped us with this question and advised us to try a wonderful service BigBangram. It was quite simple to use and support service helped us with the unknown terms and technical moments. We didn't want to hope for something great, so we took the cheapest tariff for 1 account just for the test (you never know what might happen).
We googled and realized that this field is quite simple. We just have to spend some time and study everything very carefully. We decided to start with the hashtags, because it is the most obvious method of promotion. Reviewing the feed, we found hashtags-leaders (tags, which cross in the same message more often and have more "likes"):
#fashionbikini
#swimfashion
#swimwear
#swimsuit
#bikini
Service can target to the owners of hashtags (those who placed the post with hashtag) and to the hashtag "lovers" (people who have shown "like" activity). We decided to run it for both sides in parallel and to compare results.
Targeting followers of accounts-donors (here it means pages of competitors) is one of the great advantages. There we found accounts of big competitors with inflated prices, when we searched using hashtags. Why not make use of it? For two hours we found around 30 accounts-donors (further we used around 50 donors).
Then we ran "like" and "follow" automatically.
The result didn't take long. We know that we were not experienced enough and set all up not perfect, but feedback (followers, "likes", comments) was huge! It's the best feeling ever! =)
It is important not to miss comments or private messages! Don't be shy, answer any kind of comments. On the second day after we launched our campaigns in BigBangram we had about 10 statements, 2 of them had grown up into prepaid bids. Without any experience in sales. Without technical skills. Not bad, isn't it?
After the first wave of euphoria, we decided to take up serious steps in our business!
We realized when you have contact with your customers (in comments or private messages) it helps you to see what people prefer to buy. It became clear, that it's time to use the function of mailing comments. Software can make comments, based on templates, which greatly simplifies the problem of compiling a list of comments (in fact, it's too difficult to understand templates, so don't be shy to contact support service, they gave us a "gift" - ready set of 30 templates =)) The result is huge. Every 10th comment turned into a follower. We got another 2 paid applications that day.
And we kept that effort! The process become almost autonomous; we only looked at the statistics once a week, turn off weak campaigns and scaled up strong (we wanted to cover many different sources, but support advised to use not more than 7 streams at the same time, it's optimal to use 5-7).
The results of 6 weeks: Around 3500 real followers, 108 targeted comments. More than 150 advertisements, 43 sales. Dozens of proposals for partnership from the models and big shops.
At the moment, we are organizing mass production of swimwear. We are solving the problems with the delivery to the network of the Italian shops and have negotiations with 3 more shops. During this period, we earned about 1250% of net money. The amount isn't big, but you need to understand that we used only 1 account. If you are an experienced businessman, who knows his business, capable of serving large flow of customers, so, it's not forbidden to use 2-3-5 and more accounts, which will increase the flow of customers in 2-3-5 times.
Good luck everybody and have a great day!
BigBangram, thank you guys for help and support in difficult moments.

Always yours, Frangipani Swimwear

_____________________________________________________________________________
_____________________________________________________________________________
An example how to start your campaign

You don't know how to start the promotion of Insta?

10 free days trial for the invitation!
2 min to understand everything about our service