Articles
HOW THE COMMERCIAL IS SHOWN ON INSTAGRAM?
YOUR COMMERCIAL ON INSTAGRAM WILL APPEAR IN THE INSTAGRAM FEEDS OF PEOPLE ALONG WITH THE IMAGES
FROM THEIR FRIENDS, RELATIVES AND OTHER INSTAGRAM ACCOUNTS THAT THEY SUBSCRIBE.
Your Instagram username will appear in the upper left corner of the ad, and people will be able to click on the account name to visit the profile of your company. In the upper right corner will be displayed Advertising button. In the lower right corner, you will see a chosen button call-to-action. Once they click on your call-to-action, they will be redirected to the URL of the web site, which you included when you create your ad. Directly under the image there is the text you've included in your ad.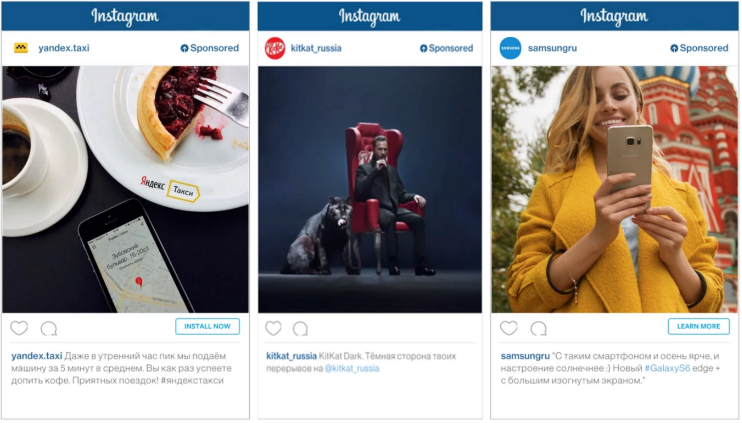 FOR DISPLAY ADVERTISING IN INSTAGRAM YOU HAVE TO HAVE A FACEBOOK AD ACCOUNT AND INSTAGRAM ACCOUNT OF THE COMPANY.
Where ads are displayed?
Created in Instagram ads will be shown to users of the Instagram app on iOS and Android. Remember that advertising Instagram is not available on computers or other sites for mobile devices beyond Instagram apps for iOS and Android.
The size of the image:
Recommended image size for ads in Instagram: 640х640 pixels. When you create an ad in Power Editor, you can use the function to Crop the image to ensure that advertising in Instagram looks exactly as you want it.
Signature length:
The signature you use for your ads in Instagram will be displayed below the image and can include up to 175 characters.
Aspect ratio:
The image for your advertisement must be square, with an aspect ratio of 1:1.
The URL of the web site in the signatures:
We do not recommend you to use URLS in text advertising in Instagram. People will not be able to click on the URL in the text field of your advertisement.
Goals that can be used for advertising in Instagram:
Currently, if you want to create ads in Instagram, you need to use target advertising Clicks to website in the Power Editor. Objective Clicks to website allows you to set the URL of the web site. As soon as someone clicks on the call to action in your ad, they will be redirected to your specified URL of the web site. Your ad will default to optimized to reach people who are likely to click on your call-to-action.
Targeting
The same targeting options that you can use when you create an ad on Facebook, are available for advertising in Instagram. Targeting options include location, demographics, interests, actions, and much more. Remember that you do not have to use all of the targeting. You have to use options of targeting by country, age and sex. Use other targeting options if you want to control better who can see your ad.
Recommendations to advertising on Instagram
Highlight your brand
Instagram is a place that is visited by people in search of interesting and inspiring images. As a company in Instagram, you should consider the following 3 key objectives when creating advertising campaigns in Instagram: focus on the brand, concept and high quality.
Make sure that your images highlight your brand
1. For advertising in Instagram, use a high quality images. Your ads should be creative and also should show the point of view of your brand. Find different ways to incorporate recognizable for your audience logos, icons or color scheme of your brand in the images you use in your advertising in Instagram.
2.The sequence is part of creating an on-brand campaign in Instagram. When people see your images in your feed visit your Instagram or Instagram profile, they have to know your brand and understand what you are trying to convey to them. Remember that the images you share on Instagram should be consistent, even if you use some image as the organic materials, and others as advertising.
3.Use images with one concept
What are you trying to convey to your audience? What feelings or thoughts you want to evoke from people with your advertising? How you want to present your brand to people? Ask yourself all these questions before sharing images on Instagram.
- Tell your story. Take a series of images that tell about your brand, and post them to Instagram for some period of time.
- Try traditional means of visual processing. Use different filters to make mood with your images. You can even use a number of different filters to show a change in mood over time.
- Develop one theme. Create a series of unique images with one common theme. For example, you could show a group of friends going to the beach, and what they were doing, or you can show a single object in different conditions.
Make sure the high quality of the images
No need to be a photographer to create beautiful images in Instagram. Just remember the following when creating images for Instagram:
- Maintaining the focus. Sometimes the simpler your image, the more it stand out. No need to create too complex or multidimensional image. Instead, highlight one or two places that should attract the attention of your audience. Ideally, one focal point should include a recognizable to your audience logo or other element of your brand.
- Frame and balance. Make smooth images with respect to the horizon and consider the symmetry and rule of thirds while shooting.
- The lighting and detail. Be sure to use clear images with high resolution. Photos taken in low light, and image, in which pixels or other defects, may not be as effective in Instagram.
ENSURE THAT YOUR AD CONFORMS TO OUR RULES OF ADVERTISING ACTIVITY.
Advertising on Facebook and Instagram must comply with the advertising policies including the rule with respect to 20% of the text. To make sure that the text is less than 20% of the pixels of your image, use the grid tool to test your photo.